In 2019, "Godfather on the road" Li Bin was named the worst person, all due to the market value of Weilai Automobile falling and falling, word of mouth falling and falling, employees falling and falling, burning money.
Once upon a time, among the new car building forces such as Weilai, Xiaopeng, and Ideal, Weilai Automobile is unique and represents the future of new energy vehicles. It once overtook traditional car companies such as BYD, Geely, and Beijing Hyundai. Today, financing has been blocked, stock prices have plummeted, financial losses have fallen, and domestic Tesla prices have dropped. The pressure on Weilai Automobile has doubled, and new energy subsidies have left a place after the carnival.
What's more, Weilai Automobile's third quarter 2019 financial report revealed: "Welai Automobile is operating on a continuous loss and negative equity model, and the company's cash balance is not sufficient to provide the working capital and liquidity required to continue operations in the next 12 months. This also means that in 2020 Weilai Automobile urgently needs to fill the huge pit left by burning money in 2019, otherwise it will be a dead end.
In 2020, Weilai is facing a life and death situation, standing on the line of life and death, and returning to that question: Does Weilai have a future?
Little turmoil and big defeat
The new wave of automobile construction started in 2014. At that time, the country strongly supported the construction of the new energy vehicle industry and provided huge financial subsidies for many years. Publicly available data on the Internet shows that from 2015 to the first half of 2017, a total of more than 200 new energy vehicle production projects in China were launched, involving an investment amount of 102.62 billion yuan. The new car-building forces such as Weilai, Xiaopeng, Ideal, Nezha, and Ranger have taken root and thrive.
From 2017 to 2018, Weilai rose from the subsidy Dongfeng and was supported by a luxurious investment team. After a year, the subsidy outlet retreated, the capital returned to calm, and Wei Lai's brutal growth left only the pits of layoffs, recalls, and executive departures.
Layoffs and layoffs
In the cold winter of the auto market in 2018, the wave of layoffs in auto companies continued from the end of 2018 to a full year in 2019, and Weilai is no exception.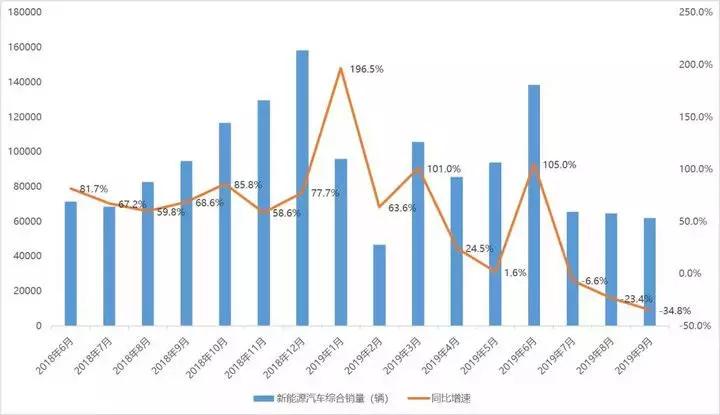 Figure 1: Changes in China's comprehensive sales of new energy vehicles (Source: Passenger Car Market Information Conference)
Weilai's layoffs are mainly concentrated in 2019, a turbulent year. In March 2019, Weilai proposed to optimize the staff by about 3%, control the total number of people to less than 9,500, and adjust the number of layoffs after 6 months. Wei Bin, founder, chairman and CEO of Weilai, said: In order to control expenditures and focus on core business, 1200 jobs will be reduced globally by the end of September, and the size of Weilai's staff will be about 7,500 after adjustment.
In the North American market, after three layoffs, Weilai's number of employees has dropped sharply by 42%. In May 2019, Weilai announced that it would lay off 70 people and close its San Francisco office, including 20 in San Jose's North American headquarters office and R & D center, and 50 in San Francisco. In September, 62 employees were fired; in December, the United States The San Jose area has laid off another 141 people.
During the period of crazy expansion, Weilai had tens of thousands of employees. In just one year, the number of employees dropped to about 7,000. Weilai's voice in the industry plummeted.
The reasons for the layoffs were nothing more than to reduce costs. Li Bin once stated in the company's internal letter that "the company will continue to reduce costs and reduce the number of employees to about 7,800 and further streamline its business through further reorganization and divestiture of some non-core businesses." It also includes North America's autonomous driving department and Formula E racing team. Similarly, Jolai Yamani, head of communications at NIO North America, said that after cooperating with Mobileye, NIO was able to optimize many autonomous driving personnel, thereby further reducing its financial pressure.
The successive statements such as "layoffs are to reduce financial pressure" and other statements also explain that multiple rounds of financing and the support of many Internet tycoons have also filled the pits of Weilai 's blind expansion and money addiction.
2.Weilai ES8 spontaneous combustion
The layoffs are trivial. Every year at the end of the year, Internet companies will lay off employees in disguise. The name is: Optimize the corporate structure, and Internet practitioners know this. However, once the product has a problem, it will be nailed to the industry's stigma.
In 2019, Weilai Automobile fell into a crisis of trust due to the spontaneous combustion of the ES8. Relevant media reports: On April 22, a Weilai ES8 spontaneously ignited in a 4S shop in Xi'an; on May 16, a Jiading ES8 in Shanghai Jiading spontaneously ignited; on June 14, an ES8 in Wuhan spontaneously ignited. ; On June 27, an ES8 in Shijiazhuang, Hebei, spontaneously ignited in the basement.
After the continuous spontaneous ignition incident, Li Bin, the chairman of Weilai, responded, "The spontaneous combustion of electric vehicles is a probabilistic event. The spontaneous combustion of traditional vehicles is much higher than the number and proportion of electric vehicles." Li Bin did not explain the spontaneous combustion too much. The reason is to directly recall the ES8 electric vehicles on the market, and through a comprehensive inspection, the product crisis has been lifted.
Weilai found out that the cause of the Weilai ES8 spontaneous combustion was a defect in the wiring direction of the power battery module, which caused the wiring harness to rub against the battery pack frame and be squeezed by the cover. In extreme cases, the line insulation layer will wear, which will cause short circuit overheating and uncontrolled fire. And the solution is given: replace the battery for Weilai ES8 through recall.
Although the crisis was lifted, Weilai's reputation was inevitably severely hit, and users who had full confidence in Weilai also questioned Weilai's car-building technology. At the same time, a greater crisis is approaching.
The ES8 spontaneous combustion incident has caused users to debate "the advantages and disadvantages of JAC and Weilai automobile foundry cooperation", and behind the dispute are users questioning Weilai automobile manufacturing capabilities.
Unlike traditional car companies such as BYD and BAIC, the new car-building forces such as Weilai and Xiaopeng follow the asset-light route. In order to achieve the most economical, most efficient, and most economical way to build cars, they generally choose to acquire traditional Auto companies build factories or cooperate with foundries. For example: Weilai and JAC, Xiaopeng and Haima Automobile. The new forces of the car industry and the traditional car companies, two companies with different manufacturing concepts can easily cause friction, which leads to uncontrollable product quality.
It is foreseeable that before Weilai did not build its own factory, "foundry cooperation" would have been the weakness of Weilai's development, and the debate on product quality would also follow for a long time.
3. Executive departures
If the problem of layoffs, products and other issues is passive, then the executive departure is active, and leaving Weilai may be because there is no hope.
Since listing in 2018, Weilai's senior executives have resigned and retired frequently. According to incomplete statistics, only one year, 15 high-level jobs have changed. Among them, 4 people including Xie Dongying left, and 2 and 9 executives retired.
Weilai Cars frequently has a wave of executive departures, which is considered to be an early warning that Weilai Building will fall. For listed companies, well-known corporate executives represent the management level of the company, and the stability of the management means that the company is moving forward. When executives start to leave, it means they don't think their options are promising, and it signals a decline in the company.
All in all, in order to weather the cold winter, Weilai Automobile will further streamline its business and reduce its business costs for most of 2019, and direct and effective practices such as layoffs and streamlined businesses have also allowed Weilai to take a breather.
Sweep the haze, talk too soon
In the first half of 2019, Weilai was caught in a quagmire, and all parties sang badly. At the end of the year, Li Bin said that Weilai had passed the dangerous period.
In the third quarter of 2019, Weilai reversed the downward normal, with revenue growth, narrowing losses, and car deliveries rising year-on-year, and capital has confidence in Weilai.
The financial report shows that in the third quarter of 2019, Weilai Automobile's total revenue was 1.836 billion yuan, an increase of 21.8% month-on-month and 25% year-on-year, of which automobile sales were 1.733 billion yuan. Net loss in the third quarter was RMB 2.521 billion, a decrease of 23.3% month-on-month and a decrease of 10.3% year-on-year.
The rise in revenue did not come easily. We must know that the first two quarters of 2019 are still in the dark moment of revenue decline and loss growth.
Figure 2: Weilai Automobile's first three quarters of 2019 net loss changes
In the first quarter of 2019, Weilai's total revenue was 1.6312 billion yuan, a decrease of 54.6% compared with the previous quarter; net loss was 2.623 billion yuan, a decrease of 25.1% from the previous month and an increase of 71.4% year-on-year. The total revenue for the second quarter of 2019 was RMB 1.586 billion (approximately $ 219.7 million), a 7.5% decrease from the previous quarter. Net loss was RMB 3,288.5 million (approximately $ 478.6 million), an increase of 25.2% month-on-month and an increase of 83.1% year-on-year.
In addition to rising revenue, Weilai's controversial car delivery also received good news. Weilai delivered a total of 4,799 products in the third quarter, of which ES6 delivered 4,196 and ES8 delivered 603, while only 3553 were delivered in the second quarter. The number of vehicles delivered in the fourth quarter is expected to exceed 8,000.
Thanks to the counter-attack in the third quarter, Weilai Automobile's stock price surged more than 100% on Monday. Therefore, Li Bin also expressed optimistically: I believe that the gross profit of Weilai Automobile in 2020 will be positive. The people who sang Weilai Automobile in the first half of the year followed the vision of Weilai's future.
But fatally, Weilai did not have enough cash for "continuing operations in the next 12 months."
In addition to operating performance indicators, Weilai also issued a continuous operation warning. It is reported that as of September 30, 2019, the balance of Weilai's cash and cash equivalents, restricted cash and short-term investments was RMB 1.96 billion. In the next twelve months, whether to successfully obtain sufficient external equity or debt financing determines Weilai's life and death.
The shortage of funds is related to high expenditures in the past such as sales, management, investment and research. In order to save itself, Weilai also made corresponding strategies: first, save costs, including layoffs, optimization of organizational structure, etc .; second, continue to seek capital financing; finally, reduce marketing expenses. Judging from the appeal adjustment strategy, light treatment of the symptoms does not cure the root cause, and Weilai talks about sweeping the haze too soon.
Reduce costs
Li Bin said that it would cost 20 billion yuan to build a car, so he summoned Internet predators such as Lei Jun and Liu Qiangdong to invest in Weilai, but so far Weilai has spent more than 20 billion. Later, Li Bin also said, "In the qualifying stage, we must do a good job of internal strength. We do n't need to spend money and we do n't spend it. We spend every penny. Lower cost, higher efficiency, and better product services are Things the entire company does during the qualifying phase. "
Weilai, not bad for money, has signs of saving money. Obviously, the subsidy of the industry has declined, the economic environment is sluggish, and financing is limited, and Weilai's money is not enough.
In 2019, the state's subsidies for new energy vehicles have been significantly reduced. Land subsidies have been cancelled and national subsidies have been significantly reduced, resulting in rising consumer purchase costs and a decline in new energy vehicle sales. Unlike traditional car brands with strong family bases, subsidy subsidies have a great impact on the funding of new forces in the car industry, and small new energy vehicles have fallen into the cold wave of subsidy subsidies.
In addition, the cancellation of subsidies for new energy vehicles will also affect investors' confidence in the new forces of automobile construction, which will affect the financing progress.
According to the New Deal plan, new energy subsidies will be completely cancelled during 2020, and the external situation will become worse. Weilai can only cultivate its internal skills.
Reducing sales expenses is one of the most direct ways to reduce costs. According to the financial report, Weilai's sales, general and administrative expenses for the third quarter of 2019 were RMB 11.644 million ($ 162.9 million), a decrease of 18.1% from the second quarter of 2019 and a decrease of 30.3% from the 2018 quarter. Excluding share-based compensation expenses, adjusted sales, general and administrative expenses (non-GAAP) were RMB 11.163 million (US $ 156.2 million), a decrease of 17.4% from the second quarter of 2019 and a decrease of 15.6 from the 2018 quarter %.
Tighten the belt and terminate the plan to build a factory in Shanghai. Weilai pointed out in the prospectus that it will complete the construction of the Shanghai plant in the next three years, invest in research and development, and improve the sales and after-sales network. But later, Weilai regretted it and announced to the outside that the cancellation of the Shanghai Jiading plant construction plan and continued JAC OEM production meant that Weilai's factory dream was officially broken.
It can be seen that Weilai is actively solving the shortage of funds, including layoffs, reduction of marketing expenses, cancellation of plant construction plans, and so on. However, although reducing costs can reduce Weilai's financial burden to a certain extent, it is more of a solution to the symptoms than the root causes.
At present, Weilai rivals Tesla's Shanghai factory officially, and BYD and other traditional car companies have oversized new energy markets, such as Xiaopeng and Ideal, to catch up. At the stage of car companies fighting for products, technology, services, and strength, Li Bin was showing fatigue. He said, "How much pressure have I had recently? I want to pay more attention to our cars. If a friend wants to buy a car, let him buy it. The arguments of "our car" and "cannot allow a 4-year-old child to support the family" have been arguing over the mountain in a while.
The future of Weilai is diverse, and some people think that Weilai's products and services are excellent, and it can surpass Tesla by going through it. Some people also think that Weilai's products are inferior to Tesla, and it is difficult to retain car owners by service alone.
Barriers to products and services
In the new energy vehicle market, the argument of product first or service success has been debated. From Tesla and Weilai, we can peep at one or two.
1. The product is difficult to convince
For new forces to build cars, users' recognition of auto products is their living capital. In today's highly intelligent cars, in addition to ensuring safety, power endurance, appearance, etc., the intelligence of their cars has also been valued by consumers, and new forces in the car industry are struggling to innovate and develop.
Weilai is positioned as a high-end car and directly advertises Tesla, so the two are indispensable for comparison. Compared with Tesla, the originator of new energy vehicles, Weilai Automobile has only 5 years of experience in car manufacturing, and Tesla has more advantages in terms of capital, technology and product performance.
At present, Weilai Automobile's products include 7-seater Weilai ES8, intelligent electric SUV Weilai ES6, and electric super-run Weilai EP9. Among them, Weilai ES8 spontaneous combustion incidents occur frequently, and other models are not optimistic. And Tesla has electric roadster Tesla Roadster, electric car Tesla Model S, pure electric SUVTesla Model X, Tesla Model Y, Tesla Model S P85D, Tesla basic version Model 3 and so on. In addition, Tesla has three factories, and the discussions on the opposite side of "Weilai and JAC OEM" have never stopped.
Comparison of battery life. The most concerned product performance of new energy vehicles is the car's endurance. The Weilai ES6 sports version sells for 358,000, and the Chinese-made Model 3 sells for 35.5. At a similar price, the official data shows that the ES6 sports version is at 70kWh. With a battery capacity of 430km, the range is slightly lower than the 445km of the Model 3.
Figure 3: Comparison of Tesla and Weilai Auto Sales in the First Half of 2019
Comparison of car sales. From the sales data in the first half of 2019, we can see that Tesla's total delivery is greater than Weilai. Among them, the cumulative delivery of ES6 in the first month of delivery was 458 units, and Tesla Model 3 has exceeded 10,000. Although the Weilai ES6 started delivery in mid-June this year, in less than half a month, it has achieved a good result of actually delivering 458 units, but there is still a gap in sales growth rate with Tesla.
Tesla adheres to a product-oriented strategy from beginning to end, attaches importance to product development, and Weilai also has the determination to do a good job. However, in terms of qualifications, capital, and technology, Weilai is still inferior to Tesla. Especially after Tesla settled in Shanghai, the competition between Weilai and Tesla became inevitable, and the shortcomings of the products were amplified.
2. The "ceiling" of the service
Speaking of the vast majority of people in Weilai Automobile will admit its good service label, good service is also a core reason for Weilai Automobile's rapid growth and capture customers.
Figure 4: Changes in sales and management expenses of Weilai Automobile
In terms of automotive services, Weilai has invested huge management costs to innovate automotive services. It can be said that it has pioneered new energy vehicle services. Mobile charging treasure to battery leasing, NIO House service model, and express to vehicle services have no precedent. From pre-sale to after-sale, Weilai has formed a user-centered car service system, which is both comprehensive and individual.
On the one hand, Weilai Automobile provides mobile charging treasure services to solve the problem of charging new energy vehicles. Owners of Weilai Automobile can enter their own information in the "Weilai Power Up" applet, place an order online, and the system will then dispatch nearby trains. When other new energy vehicle brand owners are troubled by nowhere to charge, Weilai Automobile gives Weilai owners a secure charging guarantee.
On the other hand, the unique NIO House service model optimizes the automotive service experience. NIO House is the Weilai Center, which provides services different from traditional 4S shops, including exhibition cars, conference rooms, book bars, coffee, children's playgrounds, etc. In just five years, the NIO House of Weilai Automobile has covered 41 cities in China, and Weilai has become the "sea fishing" of the automobile industry.
Between products and services, Weilai prioritizes services. However, in the automotive industry, service alone is not feasible, and users pay more attention to the strength of car construction. Although Weilai's user service system has created a unique style, its technical strength has yet to be verified. Tesla is more focused on product power and technology, and its services are slightly lacking. In the new year, both parties need to check for defects and fill in gaps, and integrate technology and services in order to win the favor of users.
summary
In 2020, under the background of the complete cancellation of new energy subsidies, the decline in automobile trading volume, and the continuing cold winter in the automobile market, new domestic car-making forces have chosen to "shrink their clothes and eat less" to survive the cold winter. In the new year, Weilai also adjusted its strategy. Li Bin declared: "In 2020, we will enter a high-efficiency model. Excellent R & D and excellent service at low cost and high efficiency are our leading thinking on operations and management from 2020."
In short, Weilai's current priority is to solve its own cash flow problem. Secondly, we will improve the research and development of core technology and product quality of automobile manufacturing, and use quality to attract customers and investment. Furthermore, abandon the Internet burn-out marketing model and continue to serve users well.
From the peak of 2014 to the peak of 2018 and the crisis of closure in 2019, Weilai has witnessed the cruelty of the new energy vehicle market for 5 years, knowing that 2020 will not be a smooth road, but it is still moving forward stubbornly. . Half a year ago, Li Bin praised Haikou: "Tesla has spent 16 years making profits, and Weilai will not exceed 10 years." Then, we might as well wait for Weilai for another 4 years.
Text / Liu Kuang Public Account, ID: liukuang110 Back to Sohu, see more
Editor: