Beijing News (Apprentice reporter Wu Linhuan) On January 8, a Ukrainian passenger plane crashed after taking off from the Iranian capital Tehran Khomeini International Airport, killing all 176 people on board. Today (January 9), a reporter from the Beijing News learned from China Southern Airlines Group Co., Ltd. (hereinafter referred to as China Southern Airlines) that at present its airlines have cancelled flights to and from Iran due to "air defense security" reasons.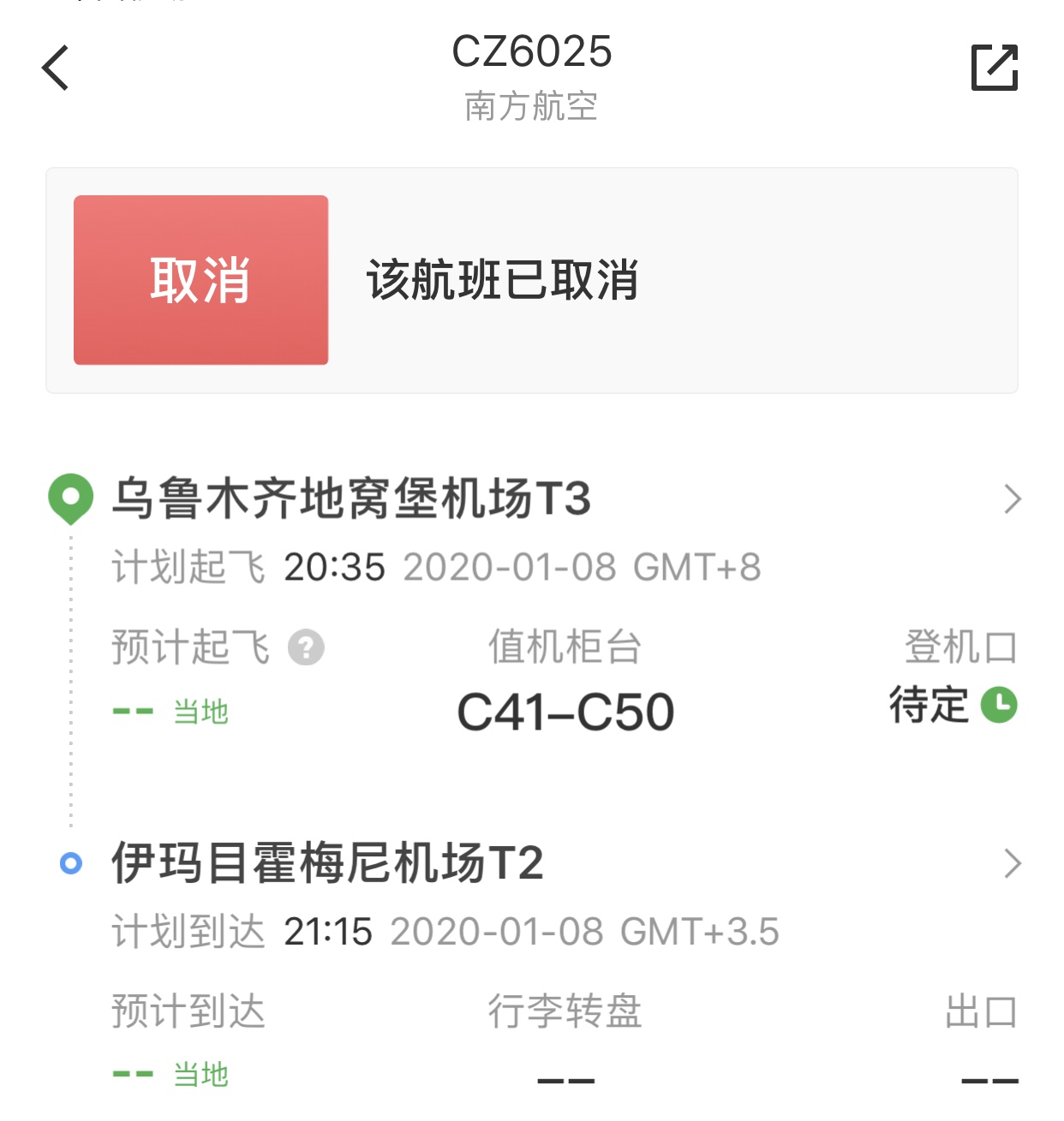 Flight cancelled. Source: Screenshots of Air Travel App
According to public flight information, China Southern Airlines CZ6025 flight should have taken off from Xinjiang Urumqi Diwopu Airport at 20:35 on January 8, Beijing time. It is expected to arrive at Iran's Imam Khomeini at 21:15 (local time) on the same day. airport. The return flight CZ6026 is scheduled to depart from Imam Khomeini Airport in Tehran at 22:35 on January 8, local time, and arrive at Urumqi Diwopu Airport at 7:35 on January 9, Beijing time.
Multiple ticket buying platforms show that only China Southern Airlines operates direct flights to Tehran, Iran. Today, a reporter from the Beijing News inquired that both flights had been cancelled.
China Southern Airlines flight customer service confirmed that the two flights from Tehran to Urumqi have been cancelled due to "air defense security" reasons. No subsequent flight information has been received. The customer service said that the China Southern flight from Urumqi to Tehran has four flights a week, on Tuesday, Wednesday, Friday and Sunday. "There is currently no flight change notification for the Urumqi-Tehran flight departing at 20:35 on January 10, and the flight status is normal."
It is understood that Iranian Mahan Airlines currently operates Tehran flights to and from Beijing, Shanghai, Guangzhou and Shenzhen. Iran Mahan Airlines issued a statement on its official Weibo at 17:58 on January 8th, saying that all operations of the Iranian Imam Khomeini International Airport in Tehran are normal, and the above-mentioned round-trip flights operated by Mahan Airlines are in normal operation No change. Its aircraft types are all Airbus series.
Proofreading Liu Jun Back to Sohu, see more
Editor: