[Global Network Reporter Zhao Youping] Iranian Revolutionary Guard General Suleimani was killed in the attack in Iraq. In the early morning of the 8th, Iran launched an attack on a US military base in Iraq. Yesterday, the official Weibo of the Iranian Embassy in China sent four Weibo posts yesterday. However, from yesterday to the present, the official Weibo topped the contents of invitations to Chinese tourists to travel to Iran during the Spring Festival. Some netizens left a message: Tickets have been issued. I am a bit worried. Will they fight?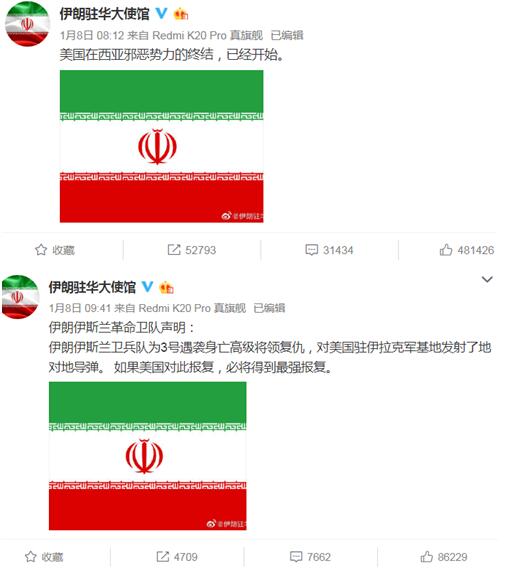 In July 2019, Iran announced a visa exemption for Chinese citizens. A month ago, the official Weibo post of the Iranian Embassy in China stated that the 2020 Spring Festival is coming. For Chinese friends, traveling to Iran during the Spring Festival is a good choice. Travel "", Weibo also attached a detailed travel guide. Currently, this Weibo has been pinned. ↓
There are currently more than 8,000 messages under this Weibo, most of which have been newly introduced in the past two or three days. Many netizens are discussing the situation in the United States and Iran. Some people saw this Weibo one month ago as "sad." ↓
Others hope that the United States and Iran can end the conflict and confrontation at an early date, and that cultural relics will not be affected. ↓
Shortly after Iran's attack on U.S. military bases in Iraq yesterday, a Ukrainian passenger plane crashed in Tehran, Iran. Many people are worried about whether it is safe to go to Iran at this time. Netizens "want to fly like leaves" message said: Tickets have been issued, a little worried, will they fight? ↓
The message "Fly like a leaf" received 205 responses. Many people persuade him to pay attention to the news and the situation. ↓
Most netizens advised them to refund their tickets. ↓
Some netizens who had intended to travel to Iran also left a message: Do n't go first, next time. ↓
After Iran's attack on the US military base in Iraq, Air France, Lufthansa, British Airways and many other international airlines have stated that they have grounded or changed routes passing Iran's and Iraqi airspace. As for China, Wan Xiangdong, the chief pilot of the Civil Aviation Administration, told the Global Times-Global Network reporter on the 9th that the Civil Aviation Administration is paying close attention to the situation in Iran and currently does not require domestic airlines to cancel flights or change routes.
On the 8th, the Chinese Embassy in Iran reminded Chinese citizens and institutions in Iran to pay close attention to the regional security situation, increase vigilance, and pay attention to security precautions. In case of danger or emergency, please report to the police in time and contact the Chinese Embassy in Iran.
So if you originally planned to travel to Iran during the Spring Festival, would you change your plan? Back to Sohu, see more
Editor: