Soared 255% in 1 month, and fell in 1 minute ...
Yesterday (January 8), the share price of Chongsheng Holdings (02680.HK), a listed company in Hong Kong stocks, suffered a sudden crash. After the opening, it fell by more than 60%. At the close, it was reported at 3.2 Hong Kong dollars / share, down nearly 45%.
Today, Chuangsheng Holdings has picked up. As of the end of the trading day, it was reported at HK $ 3.34, an increase of 4.38%, with a total market value of HK $ 1.336 billion.
And in 2019, which just ended, this scene has been staged frequently:
The big banker's warehouse washing, short sniping, and performance explosions caused the company's stock price to crash, the market value of tens of billions of dollars instantly vanished, and ultimately investors were injured.
18 trading days skyrocketing 255%
According to public information, Chuangsheng Holdings is a Hong Kong financial and securities service provider. Its main business is to provide corporate financing consulting services, placing and underwriting services, securities trading and brokerage services.
On September 14, 2018, Chuangsheng Holdings officially launched on the Hong Kong Stock Exchange with an issue price of HK $ 1.8. However, on the first day of listing, its share price suffered a breakout. The share price was directly lower than the issue price to HK $ 0.98, and fell to a low of HK $ 0.52 all the way.
Since then, its stock price has rebounded, but for a year, it basically hovered below 2 Hong Kong dollars, and the volume and turnover were small.
However, on the eve of the flash crash, Chuangsheng Holdings suddenly soared.
Chuangsheng Holdings Daily
On December 10, 2019, Chuangsheng Holdings surged by more than 22%. Since then, the stock price has risen again and again, and it has gone out of the "ten consecutive years."
Wind data shows that its share price has risen as high as 255.21% in the 18 trading days since December 10, 2019.
During this period, on January 2, Chuangsheng Holdings issued an announcement saying that it planned to acquire 5.22% equity of Taizhou Water (1542) in the open market, for a total of 2.608 million shares with a total price of 10.981 million Hong Kong dollars. After the completion of the acquisition, Chuangsheng Holdings will hold nearly 5.22% of all issued H shares of Taizhou Water.
Regarding the reasons for the acquisition, Chuangsheng Holdings said that in view of the continuous improvement of Taizhou Water's financial performance, it has investment value and can also improve the company's investment return.
Turnover from profit to loss
Behind the skyrocketing stock price, there is a huge fluctuation in the performance of Chuangsheng Holdings.
According to its financial report, as of August 31, 2019, Chuangsheng Holdings achieved revenue of HK $ 44.828 million; a loss of HK $ 2.324 million during the period. This figure for the same period last year was a profit of HK $ 872,000 and a basic loss of HK $ 0.58 per share.
Chuangsheng Holdings believes that the decline in its performance is due to the increase in staff costs and administrative and operating expenses after listing in 2018.
Along with the deterioration in performance is its cash flow.
Data show that for three consecutive years from 2017 to 2019, Chuangsheng Holdings' mid-term cash equivalents have declined. In mid-2019, the project decreased by HK $ 71.33 million.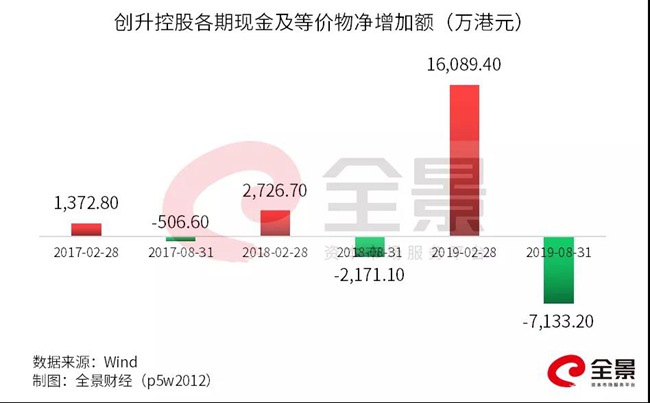 This means that its fundamentals are not enough to support its skyrocketing stock price.
Some market participants believe that its soaring stock price may be related to backdoors. In this regard, some people in the industry believe that this should have little to do with the backdoor, because before the plunge the company took the initiative to release good news, but the general speculation in stocks will not. And the market value of 1 billion Hong Kong dollars is too large for shell stocks.
Bizarre flash crash or due to major shareholders?
It is worth noting that, corresponding to the skyrocketing, the plunge of Chuangsheng Holdings also seemed very sudden.
On January 8th, Chuangsheng Holdings collapsed without warning, and fell more than 60% during the session. In this regard, Yan Zhaojun, a strategic analyst at Zhongtai International, believes that this change in stock prices may be caused by dealers' high speculation.
From the perspective of equity structure, the largest shareholder of Chuangsheng Holdings is Baiyang International Investment Co., Ltd., which holds 75% of the shares. The actual controllers are Mr. and Mrs. Zhong Zhiwen. The proportion of positions is too large. There are actual controllers who pledge equity to Citi. Possibility.
According to Yan Zhaojun's analysis, Chuangsheng Holdings used a number of securities firms to turn its stocks left and right to push up the stock price. The layout lasted for one year. The stock price was speculated in the initial stage of listing, retail investors were washed out, and the chips were absorbed at a low price. Brokers' seats turned upside down, and they sold out after the stock price rose.
In addition, KGI appeared again among brokers. People familiar with Hong Kong stocks may be familiar with it. Earlier, this company was owned by Accor Holdings and Adway Construction.
Another performance of the banker's operation is to raise the stock price by purchasing a 5.22% stake in Taizhou Water. After the acquisition, the share price of Chuangsheng Holdings further expanded, and it rose by 63% in 4 days.
The above analysts believe that after undergoing this operation, the banker absorbed low-cost chips for a year, and now the stock price has more than doubled in less than a month, and large shareholders have already made a lot of money.
Hong Kong stocks frequently stage flash crashes in 2019
In fact, in the just past 2019, Hong Kong stocks frequently staged flash crashes. After the skyrocketing, they were reduced to fairy stocks, and their market value was tens of billions.
How terrible is flashover? Maybe in a few minutes, the stock price fell from 9 yuan to 9 cents, a sharp drop of more than 90%, such as Xingya Holdings (08293).
Listed in 2016, Xingya Holdings (08293), which has risen more than 34 times. After consolidating for one year, it suddenly plunged on June 25, 2019. The stock price quickly changed from a 2% increase to a plunge within 20 minutes 98%, about 6 billion Hong Kong dollars in market value "instantly" disappeared.
Previously, the company's stock price had been around 5 Hong Kong dollars per share. With such a dive, the stock price was only over 1 cent, a record low, and it became a fairy stock. As of the close of January 9, Xingya Holdings' Hong Kong shares closed at HK $ 0.059, and it is difficult to return to its peak. The cause of the flashover was suspected to be the main shareholder being closed.
On November 21, 2019, the big bull stock Accor Holdings (03313) once plummeted 98.34% to a historical new low of 0.246 Hong Kong dollars. The company then applied for a suspension of trading and the quoted price was 0.305 Hong Kong dollars when trading was suspended, which was 2 hours less than the previous trading day. Nearly 45 billion. From the cause of the flash collapse, the suspicion of sitting and manipulating is not ruled out.
In addition to the big banker's laundering, there are some companies that suddenly collapse due to thundering performance, corporate executives being demonized, and being sniped by short-selling agencies. Often, in the end, all investors are suffocated. For investors, the risks speak for themselves. Back to Sohu, see more
Editor: